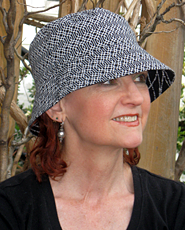 HedArt's® easy-to-wear Bucket Hat...Just pull on your hat and go!
Chemo Hats, Cancer Hats, Bucket Hats, Sun Hats...artful headwear by hedArt® designed for comfort...Suitable for people of all ages, with and without hair.
Made in the USA using pre-washed cotton fabrics, hedArt® offers a comfortable fit without clinging. Each hat is personally handmade by me, creator of hedArt®.
HedArt® offers hats for every Season. All hats are reversible.
Visit my Gallery to see more hedArt®.

Visit my on-line shop www.hedart.etsy.com.

Contact me: Karen@hedart.com


Karen with Lisa Ciancio, Marketplace Director of NAAF, at the Washington DC National NAAF Conference.

Let hedArt decorate your head. Where the flowers bloom all year long.
(Pathway to studio)
Thanks to Greg Rogers of GR Design for my web site design.
An additional thank you to Wray Bassett of Graphic ID, LLC and Gene Speaks of Graphic Works for content art design.