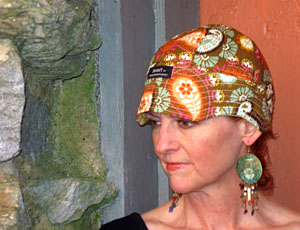 Hedart, an easy-to wear cotton cap designed specifically for hair loss.
Chemo hair loss hats, cancer caps, alopecia hair loss cap ... Unique Artful Design for Style and Fun by hedart® suitable for people with and without hair loss.
As an artist, in February of 2010, I was inspired to begin a new chapter of expression by creating fun and artful caps. My desire was to create a beautifully made cap that was specifically but not exclusively designed for people experiencing some form of hair loss. I wanted to create a cap that would help the wearer feel confident and attractive. Thus, hedart, art for the head, was born. A fresh new way to cover your noggin.
Great care is taken in selecting all the fun and colorful fabrics. The cap is constructed using a 100% pre-washed cotton outer shell and lining with a quilted filler. Hedart's unique patented design allows you the freedom to just pull on your cap and go! Nothing to adjust. The plain caps are machine washable, gentle cycle in cold water. All other caps are hand washable. Each cap is handmade by me.
Hedart® comes in 3 basic versions: Plain, Ringed and Ringed with "Art".
Plain cap: A beautiful alternative to your traditional cap. Add a pin or brooch to personalize your cap.

Cap with Rings: Rings add interest and dimension. Add your own "art," charms, etc. to your cap.

Ringed cap with "art": Colorful links and various rings add color and fun. You, and all who see you, cannot help but smile when they see this artful cap. Each cap is unique.

Hedart® can be worn a few different ways. Wear it with the label in the front, creating a visor effect, or spin it around with the label in the back. Hedart's finished lining allows the unadorned caps to be reversible.
How to Wear your hedart®

You can also view a few examples of hedart by clicking on the Gallery button on this Home Page.
To VIEW many more of my caps & place an ORDER visit my on-line shop www.hedart.etsy.com. Etsy is an on-line shop that features people who are selling handmade and vintage items. You can purchase a cap through PayPal, VISA, Master Card, American Express & Discover. I also accept personal checks and money orders.


Contact:
hedart
York, PA 17402
e-mail: Karen@hedart.com
Please feel free to contact me at my e-mail address for more information.
The ringed caps are not intended for young children.


Karen Mueller, creator of hedart.

Karen with Lisa Ciancio, Marketplace Director of NAAF, at the Washington DC National NAAF Conference.

Lisa looking beautiful in her 'full art' hedart!
Thanks to Greg Rogers of GR Design for my web site design.
An additional thank you to Wray Bassett of Graphic ID, LLC and Gene Speaks of Graphic Works for content art design.