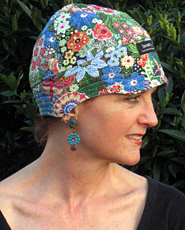 HedArt, an easy-to wear cotton cap designed specifically for hair loss.
Chemo hats, chemo caps for hair loss, cancer headcovers...artful headwear by hedArt® designed for comfort. Suitable for people with and without hair.
HedArt's unique patented design allows you the freedom to just pull on your cap and go! Nothing to adjust. HedArt® is constructed using a pre-washed cotton outer shell and lining with a light weight quilted filler. This cotton cap offers a comfortable and secure fit without clinging. Great care is taken in selecting all the fun and colorful fabrics. HedArt® is machine washable, gentle cycle using cold water. Each cap is hand made by me.
HedArt's versatility allows the hat to be worn in a variety of ways. Wear it with the 'visor' in the front or spin it around to be worn in the back...flip up the 'visor' for another look or to adjust the fit. HedArt's finished lining allows the cap to be reversible.
See photos for the variety of ways to wear your cap on the Testimonials page.
View How how to wear your cap on YouTube

You can also view a few examples of hedArt by clicking on the Gallery button on this Home Page.
To VIEW many more of my caps & place an ORDER visit my on-line shop www.hedart.etsy.com. Etsy is an on-line shop that features people who are selling handmade and vintage items. You can purchase a cap through PayPal, VISA, Master Card, American Express & Discover.


To contact me, please e-mail me at Karen@hedart.com


Karen Mueller, creator of hedArt.

Karen with Lisa Ciancio, Marketplace Director of NAAF, at the Washington DC National NAAF Conference.

Let hedArt decorate your head. Where the flowers bloom all year long.
Thanks to Greg Rogers of GR Design for my web site design.
An additional thank you to Wray Bassett of Graphic ID, LLC and Gene Speaks of Graphic Works for content art design.